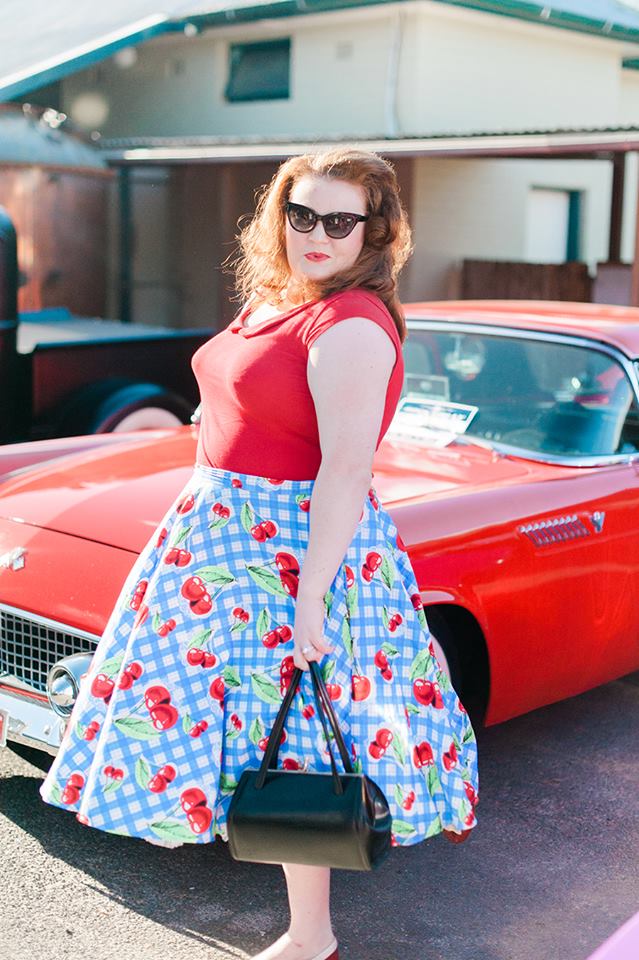 My hometown of Picton held its very first rockabilly festival last weekend. Held at the George IV Inn (one of the oldest pubs in New South Wales), the event was attended by a large and diverse crowd. Luckily, the day had clear, sunny skies after a week filled with gale force winds and rain. Overall, the event itself was a fun-filled day and a relative success for the first ever rockabilly festival in Picton, however there was some room for improvement for next year. Here's my highlights and not-so-highlights from the day:
Highlights
-Live Music: The Voodoo Rhythm Shakers, a Sydney-based rockabilly band were definitely the main reason behind the great atmosphere of the festival. The band held up a steady collection of rockabilly classics from Brian Setzer, the Stray Cats and much more with a strong-voiced female lead singer. Not only did these guys do a show at the inn the night before, but they also played for the majority of the festival held the following day. They were able to keep the dance floor open, and they didn't stray from upbeat foot-tapping songs – there was never a 'slow song' to give the dancers (and the band) a break, so I do admire their stamina. I'd love to see these guys perform again at the festival in the future, and would love to see some other gigs they're in!
-Great use of the layout of the George IV Inn: The inn itself has just been freshly renovated, with a big barn/shed area opened up. Because of this, they were easily able to accommodate a car show outside the back, a band at the front, markets and stalls around the sides of the inn and keep the inn itself relatively not too busy with the flow of crowds. Throughout the day, we were easily able to pop out back to the outside dining area to have a break and grab a few drinks and some food, which was very convenient.
-Free entry: Who doesn't love free entry?! I've been to so many era-themed events recently, where an entry fee or participation charge was required (and it definitely was not worth it). So, it was really refreshing to have an event where anyone was welcome. The friendly feel and relaxed nature of the day may be a result of this.
-Family friendly (to an extent): there was lots of activities for the kids (well, enough that you can run outside of a pub), including face painting, colouring in competitions and temporary airbrushed tattoos. It can be hard to have many kid-friendly activities at an event held at a pub, however the kids present found many things to do to entertain themselves (including having a go on the dance floor). In future, I'd suggest that there be more things to get the kids involved – perhaps a kids 'best dressed' competition (or a better title…'pinup competition' for kids is a bit inappropriate) would be a good idea!
Not-so-highlights
-Not enough food options, and expensive food: as someone who suffers from coeliac disease, I was pretty disappointed to discover that unless you really liked bread and pizza, there weren't many options for food. As the staff couldn't guarantee that the hot chips were gluten-free, I had to take a chance and hope I didn't get glutened after. Surely I wouldn't have been the only person with issues in getting food at the event: anyone who was vegetarian, gluten intolerant or lactose intolerant may have had issues as well. That being said, what was on offer (other than food directly from the inn) was from one stall only – serving up hot dogs costing $10 made from the cheapest looking ingredients. I'd pay $10 for a decent Subway sandwich (if I could eat one), however this was definitely not worth the price that was being charged, and there weren't any other choices available to patrons. However, due to the location of the inn, many food outlets were close by which could accommodate instead.
-Some parts of the day were poorly organised, particularly the Pinup Competition. The Pinup Competition had been advertised as commencing at 4:15pm, with interested contestants being told via the Facebook event page that they just needed to show up at the pageant to be able to enter. However, these ladies then discovered at the festival that 'try outs' and heats were taking place at 2pm on the day, without any advertisement of this happening. As a result, there were many ladies turning up to the pageant who were then told they could not enter. On top of this, many children entered the contest as well as there was no age limit or restrictions advertised: while I am happy for children to have a go at things, this wasn't very appropriate as it was a 'pinup' contest advertised and aimed at an older audience, where all other contestants were older women. In fact, many adult contestants were knocked out in the heats due to the 'cute factor' of many children who entered. It has already been advised that there will be a separate category for children next year, which will be much more suitable (hopefully it's just a 'best dressed' contest, rather than being 'pinup' themed). Also, the competition was judged based on audience approval alone, giving an unfair advantage to locals or many who had supportive friends come along. In future, there should be a combination of a designated judging panel, as well as audience participation.
-Not enough stalls and variety of stalls: I understand that it can be hard to have a large variety of stalls in the first year of a festival. Plus, when you've got limited space, you can only select a few stalls for the day or otherwise risk WHS issues. However, there really wasn't that much variety in the stalls and shops on the day. Some of my favourite local sellers were there (which was amazing), but other than that, not many other stalls stood out with their products. In fact, many didn't really align with the theme of the festival very well (or, they attempted to try and 'fit in' and didn't really cut it). In future, hopefully the word gets out about the festival, with more peeps getting involved who are in the rockabilly culture and industry.
Overall thoughts
It was really fantastic being a part of the first rockabilly festival in my hometown. Having an alternative, classy and trendy themed festival become a part of where I grew up means that I'm pretty excited about where this festival will go over the next few years. It was a great 'first go' of the festival, however with better promotion, more diversity of the stalls involved and better organisation, the festival is surely going to become bigger and better than ever. Congrats to all who were involved on the day – can't wait to see what's in store next year!
This post was polished by Page & Parchment.