I've been fortunate enough to travel many places in my life so far – whether it be through orchestra tours, study or personal travel. As such, I'd like to start a mini-series of posts about my varying experiences overseas, to be called Mrs Ginger Fox Abroad. What way to start the series better than bringing out my most embarrassing travel adventures!?
Here's my five most embarrassing tales from my adventures overseas:
–Getting locked in a toilet of a traditional Japanese Ryokan in Tokyo
Yeah, this happened. As part of a school trip to Japan back in 2005 (my very first trip to Japan), we stayed in a very traditional Japanese inn, or ryokan. While I was getting ready for bed, I needed to use the bathroom, so made my way to the shared bathrooms. However, when trying to open the cubicle door (made from very strong, old wood), it seemed that the wood had swelled-up and was jammed into the frame. As a result, I had locked myself into the cubicle. I was still on insulin injections when I went on this trip, and started to panic as I needed to take my night-time dose. However, everyone else was settling into bed, and the place was eerily quiet, as a traditional ryokan should be. I had to break this traditional atmosphere by screaming out for help at the top of my lungs, which was terribly embarrassing and slightly culturally insensitive. In the end, our teacher had to use brute force to pull open the door from the outside.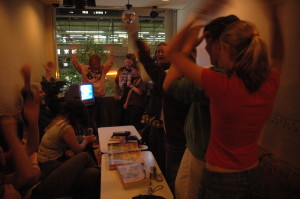 -Getting crapped on by a stork in the streets of Madrid, Spain
They say that having a bird crap on you gives you good luck. Well, my embarrassing experience in Spain in 2008 should have given me decades of good luck. Wandering around the cobblestone back streets in Madrid (I believe) with a crowd of other students in the orchestra I was in, there were many birds sitting on the steeples of churches and historical buildings. We then saw an incredibly large bird start flying over the group – one larger than we'd ever seen (it looked to be a similar size to a penguin). Next minute, it felt like I had a bucket of water thrown on me from above. Well…turns out it wasn't water: it was the waste of a very large (and very full) stork. I don't really remember much of what happened straight after this: I was in a state of shock and complete embarrassment. I was literally the only person in a group of 40 individuals who got hit by the craptacular display from this stork. I think I ended up throwing out some of the clothes I was wearing, borrowing clothes from other girls and having a very long shower and washing my hair multiple times. From this, I hoped I would somehow gain the winning lottery numbers, eternal youth or something…but all I have for now is an awkward story to tell about birds in Spain. Take my advice: if you're in Spain and see a massive bird, don't stare: run and hide. RUN AND HIDE.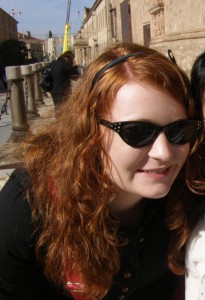 -Mistaking the appearance of lychees in Japan
When I had my stint at studying in Japan in 2009, I was introduced to lychees by my host family. Coming from a family where apples and oranges were our standard fruits, I immediately fell in love with the juiciness and sweetness of the lychee. I ended up having a bowl full for breakfast almost every day of my trip. One day, whilst walking home from university with a group of my friends, my lychee cravings kicked in early. The group decided to head to a convenience store, and I followed, hoping to fix my appetite. As we entered the stall, I noticed something interesting next to the counter: a jar of white, gel-like fruits which looked exactly like lychees to my untrained eyes. I immediately purchased these and ran out the store. As soon as I did, some of my friends gave me some strange looks, and our Japanese friend burst out laughing. They began questioning why I decided to buy myself a jar of pickled onions…where I quickly learned my mistake due to my tired, uninformed eyes. Lesson learned.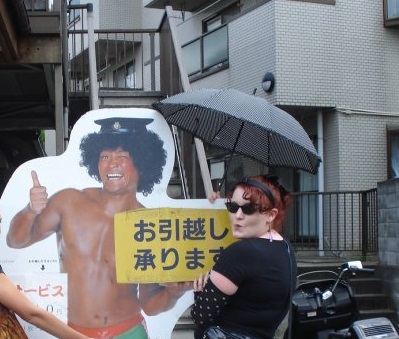 -Getting fitted for an antique kimono in Japan
It's very common to try and get yourself a kimono when visiting Japan. However, whilst studying there in 2009, I wanted to get the real thing. As such, my friends and I decided to visit an antique/second-hand kimono store up the road from our university to try our luck. A lovely elderly Japanese woman with no English skills was our fitter, which gave us a perfect change to try out our language skills. Whilst fitting me, she stopped to stare at my chest region, and then blurted out the following phrase (equivalent in English): "Wow, your boobs must be so heavy/such a burden!" This is based on the Japanese word she used of omoi, which roughly translates to heavy/a burden, where we then realised the lady was politely trying to say that I was so sufficiently stacked in the chest, I would never fit into her kimonos. My friends immediately burst out laughing, and "omoi" turned into a great little reference and in-joke of the trip and class.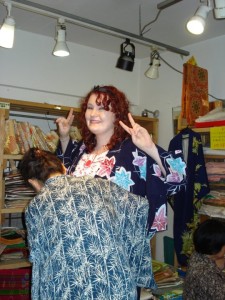 -Freaking out on the Temporazan Ferris Wheel in Osaka
I was lucky enough to introduce my husband to Japan for the very first time on our honeymoon last year. On our cruise up to this point, every port which we had pulled into in Japan had a ferris wheel. During our second day in Osaka, we had no trips booked in, so decided to explore the port. Feeling adventurous and not wanting to miss the chance of riding a ferris wheel in Japan, I convinced my husband (who has a slight fear of heights) for us to give this one a try. Though, at the time I didn't realise that this ferris wheel was in the top 20 tallest ferris wheels in the world (and is the 4th tallest in Japan: a country which loves its ferris wheels). Well…I didn't realise until we were about a quarter of the way through the ride experience, which made this the tallest ride I've ever been on. I also then decided to start freaking out about the sheer height – not helping my husband's worry at all. Our eyes went from the rickety carriage we were in to the bolts that held it together, to the outside view where we were suspended in the air, higher than the top of our cruise ship. We managed to successfully pull ourselves together and laugh about being complete idiots about getting on such a tall ferris wheel whilst admiring the view on the way to reaching the ground (which my husband kissed as soon as he got out of our carriage and his feet touched the ground). Next time, we'll take the scenic, ground-level rides instead.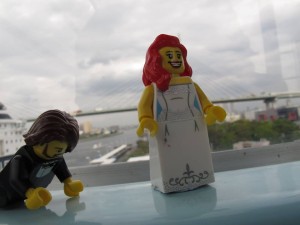 I've done so many embarrassing and story-worthy things overseas, but these few events definitely take the cake. Regardless of what cringe-worthy experiences you have overseas, I highly encourage anyone to experience travelling and discovering a new culture. These awkward experiences just help you to connect more with your fellow travellers, locals and yourself.
If you have any overseas tales you'd like to share, please do! 🙂
This post was polished by Page & Parchment.