Last week's update (apologies for the delay) is based around my very first trip to Ikea. Seriously, I can't believe that I've managed to avoid Ikea until now…I must have been living under a rock, or was a very poor uni student (or both). But anyway, it may have been a good thing that I avoided it for so long, as Ikea has now given me a massive list of ideas and products to investigate. Anyway, here are my overall thoughts on surviving Ikea as a complete noob to the Swedish mega-store:
-Ikea is big. BIIIIIIIIIG. And it feels like so much more of an adventure with the mapped-out trail of the store. Hubby and I hadn't figured out the quick escapes, and ended up walking through the entire store to exit as we missed the sneak-out exit in the food court after lunch. Oops. Oh well, there was much adventure and gallivanting as a result! So, if you're low on your daily step count for your Fitbit device, Ikea is a great place to go. by browsing and walking through the place pretty much twice, I almost racked up my whole daily step goal.
-Thank goodness we were there to mainly purchase things for other people! I spent the whole walking trip around the store needing to convince myself about not getting a filigree-detail vintage style mirror. Unless you have a game-plan, this store is deadly.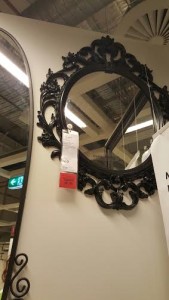 -It's definitely a great place to gain inspiration for redecorating or revamping worn-out rooms. However, it is a challenging place to go when you're renting. There're so many cool shelving systems and cupboards that can be mounted onto walls, and mega walk-in wardrobes…but unfortunately, due to rental laws we'd be unable to put them into our current place.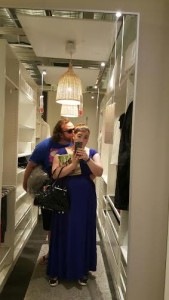 -There appears to be two types of affordability for items at Ikea. There are items which are bargains and affordable, or items that are overpriced. There are a couple of things that hubby and I were looking at, until we realised we could get pretty much the exact same thing at a discount warehouse, but for even cheaper. However, Ikea does have lots of strengths in the storage solutions they offer, as well as the quality of the storage furniture.
-Food was a bit hit and miss. As a coeliac, the meatballs were definitely not gluten free, so I couldn't try the main item everyone raves about on the menu. In fact, hubby did try them and was a) not impressed and b) felt very sick for hours after. I'm pretty confident we wouldn't write home about the food, and will probably shop on a full stomach next time (a convenient way to also try and avoid grumpy-husband-when-hungry-and-surrounded-by-too-many-shoppers syndrome).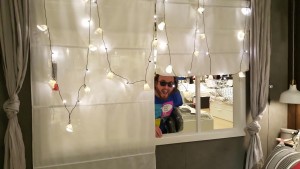 -Speaking of the above, like many major mega-outlets, you're going to have to deal with many, many shoppers being there who don't understand how to be polite and not strike up a conversation with a group of trolleys in the middle of a busy t-intersection walkway. It's a grumpy shopper's nightmare (aka, my hubby). So…if you or your significant other is a grumpy shopper, plan ahead and give yourself extra time, or try to go at a non-busy time (aka not the weekend).
Overall, if you know what you're going to purchase at Ikea and have a small game plan, Ikea is wonderful. If you have a budget to stick to, it can be a nightmare. However, it appears to be relatively easy to compromise between the two. I now have many ideas about getting a more organised sewing space set up, and hubby and I have some good ideas for making a more solid gaming area. Plus, we now have our mega-cute house terrarium structures to start developing our inside-herb garden. Anyway, Ikea is something everyone should experience at least once, in my view, while I may find myself venturing back there in the not-too-distant future.
This post was polished by Page & Parchment.