Since celebrating Christmas and my Birthday, I'm now eagerly eyeing off some items to help vamp up my wardrobe (in an attempt to make my wardrobe full of things I've always wanted to wear, but never had the confidence to try). Here's what is currently on my "to buy as soon as possible" list:
–"1932" 1960s inspired silvertone pen necklace:
I love Joan Holloway. She is my style icon, and I wish I could look like her…heck, be her. In fact, recently I've realised that with my administrative roles at work, I sort-of could be the "Joan" of our small team (this really helps me stay positive, believe it or not, haha). Ever since I saw Joan's pen necklace, I knew I had to have one. Luckily the company that made the necklace she wore, 1932 has released a whole collection of pen necklaces. As goldtone stuff doesn't really work with my skin colouring, I was overjoyed to discover they released a silvertone version. The pen actually works too, and you can purchase ink refills for only $1 USD. The necklace is only $20 USD, which is very affordable!
-Lucite/Resin Earrings and Jewellery
I can't believe I haven't gotten on board with resin jewellery sooner. Since joining Instagram, I've found some amazing individuals who create retro inspired resin jewellery. My favourite designers so far include Dazzalite, Glamourlite (an awesome Australian company!), Desperate Beatnik and the Alamo Basement
So far, these are the pair I desperately would like to have from Glamourlite:
-More Erstwilder brooches and jewellery
If you've been on my Instagram at all this year, you'll see that I'm usually wearing one of my Erstwilder brooches with outfits that I feature. I love how quirky and cute the brooches are, and how easily they can jazz up any outfit. I plan to keep accessorising this year, and hope to grow my collection of Erstwilder. Currently, these are the items I am obsessed about getting as soon as possible (you'll notice that they're all foxes…no coincidence, haha):
I would highly recommend purchasing Erstwilder through the lovely Vintage Pip or Coconette, as both are amazing sellers with great customer service and a huge range of cute products!
-A pair of vintage styled denim capris
It's summer in Australia, and whilst I can live in skirts and dresses, I do need some decent pants/shorts. I have been eyeing off the capris offered through Tatyana Boutique and the Collectif Monroe jeans. I really can't decide which of the two would look better…so I may have to end up getting both. Which pair do you prefer?
-SHOES
I love shoes. Unfortunately, as someone with foot issues (thanks diabetes) including being quite flat footed, wearing orthotics occasionally and having wide feet, it's hard for me to find good retro/pinup shoes which are comfy. I've had to settle for flats, or very expensive heels with a myriad of support in them. However, of recent, some of the amazing ladies I follow on Instagram have been showing off the shoes offered by the brands Miss L Fire and B.A.I.T and raving about their comfort factor. I am definitely now hooked on getting some shoes for my collection from these stores. At present, I am eyeing off the following sandals (I barely have any summer appropriate footwear!)
–Heart of Haute Constellation Skirt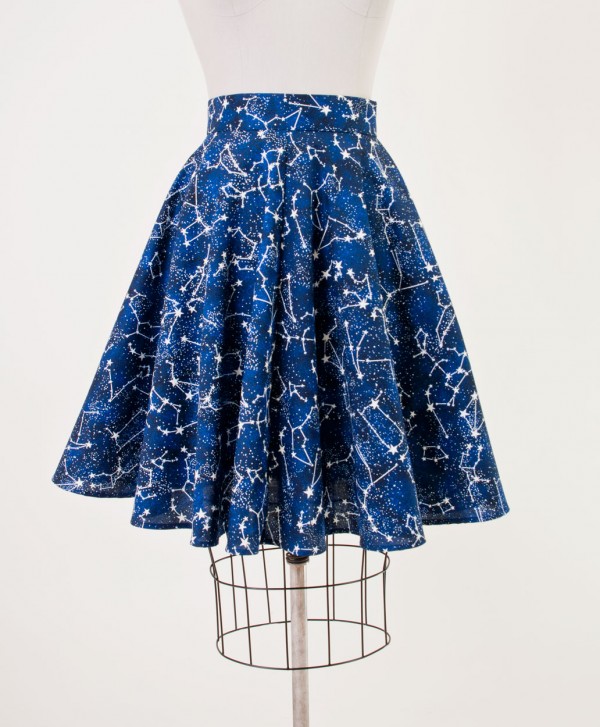 Last but not least, I've been eyeing off some more skirts to add to my collection of "epic skirts to wear with a poofy petticoat" collection. I saw pictures of this skirt on Instagram and knew I had to get it. It was after finding where to buy the skirt online, I then discovered that the stars GLOW IN THE DARK. Therefore, the skirt is now on the top of my list of clothing items to buy. This is so epic.
Lots of pretty things to save up for, it seems! What are you eyeing off this summer (or winter, depending on which hemisphere you're in)? 🙂